Thumping defeats for Sunak's Tories but he is spared by-election whitewash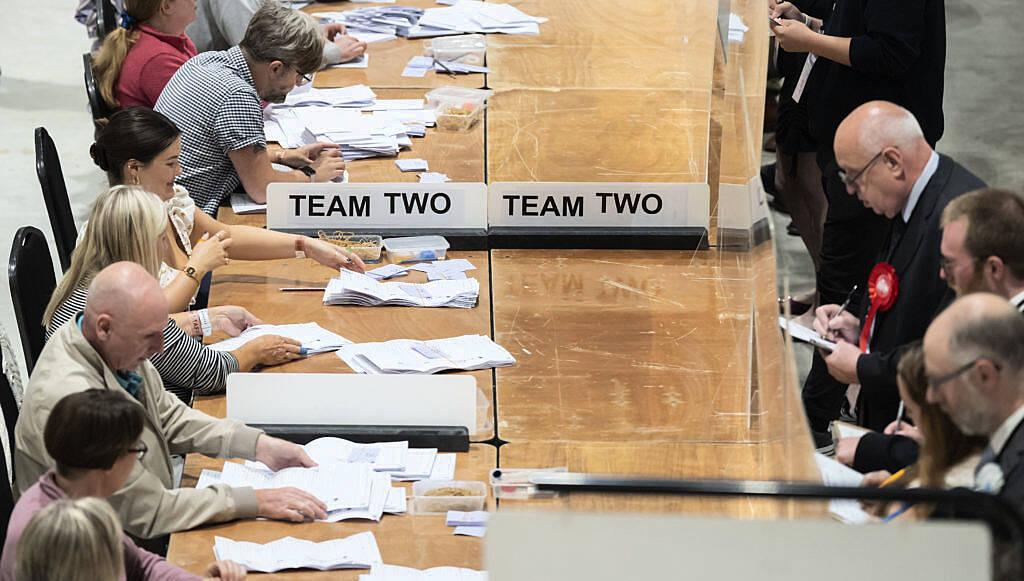 Rishi Sunak has suffered a double by-election defeat in safe Tory seats, with Labour and the Liberal Democrats both overturning majorities of about 20,000.
Labour won Selby and Ainsty and the Lib Dems took Somerton and Frome on sizable swings which will leave many Tory MPs looking nervously at their own majorities.
But the Tory leader was spared the prospect of being the first UK prime minister since 1968 to lose three by-elections on the same day as Labour failed to secure victory in Boris Johnson's former seat of Uxbridge and South Ruislip.
Tory Steve Tuckwell held on with a majority of just 495, down from the 7,210 Mr Johnson secured in 2019.
In Selby and Ainsty, 25-year-old Keir Mather will become the youngest MP in the Commons – the Baby of the House – after overturning a 20,137 majority.
He secured a 4,161 majority in the North Yorkshire seat with and Labour said it was the highest majority the party had ever overturned in a by-election.
The swing from Conservative to Labour of 23.7 percentage points is the second-largest swing managed by Labour at a by-election since 1945.
A similar swing across the country would result in it winning more seats than in Tony Blair's 1997 landslide, Labour claimed.
Labour leader Sir Keir Starmer said: "This is a historic result that shows that people are looking at Labour and seeing a changed party that is focused entirely on the priorities of working people with an ambitious, practical plan to deliver.
"Keir Mather will be a fantastic MP who will deliver the fresh start Selby and Ainsty deserves.
"It is clear just how powerful the demand for change is. Voters put their trust in us — many for the first time. After 13 years of Tory chaos, only Labour can give the country its hope, its optimism and its future back."
For the Lib Dems, a 29.0 percentage point swing in Somerton and Frome saw a 19,213 Tory majority turned into a 11,008-vote cushion for new MP Sarah Dyke.
Lib Dem leader Sir Ed Davey said the Somerton and Frome result showed his party was once again winning votes in its former West Country heartland.
"The people of Somerton and Frome have spoken for the rest of the country who are fed up with Rishi Sunak's out-of-touch Conservative government," he said.
The victory means Mr Davey has become the first party leader since Paddy Ashdown in the 1990s to win four by-elections.
Despite Labour's success in North Yorkshire, the failure to secure victory in Uxbridge and South Ruislip in west London has led to a blame game among senior figures over the capital's mayor Sadiq Khan's plan to expand the ultra-low emission zone (Ulez) to cover outer boroughs.
Labour candidate Danny Beales had distanced himself from the policy, saying it was "not the right time" to expand the £12.50 daily charge for cars which fail to meet emissions standards.
The defeat in the seat was dubbed "Uloss" by a party insider in a sign of the unease at Mr Khan's plan.
In his victory speech, new MP Mr Tuckwell said Mr Khan had cost Labour the seat.
"It was his damaging and costly Ulez policy that lost them this election," he said.
"This wasn't the campaign Labour expected and Keir Starmer and his mayor Sadiq Khan need to sit up and listen to the Uxbridge and South Ruislip residents."
Labour shadow cabinet minister Steve Reed acknowledged it had been a factor in the campaign and called for Mr Khan to change course.
The shadow justice secretary told the PA news agency: "I think those responsible for that policy will need to reflect on what the voters have said and whether there's an opportunity to change."
For Mr Sunak, the defeats happened as MPs drifted away from Westminster to begin their summer break, so he may be spared a clamour against his leadership.
The UK prime minister could attempt to reset his administration with a Cabinet reshuffle in the wake of the contests – defence secretary Ben Wallace has already signalled he will exit the British government, so there is a vacancy to be filled – although No 10 has publicly said there are no plans for a shake-up.
Mr Sunak may have decided the benefits of freshening up his team at this stage would be outweighed by the risk of it being perceived as a panicked response to an electoral setback.