Scottish League Cup: Celtic 'find a way again' as Kilmarnock left fuming at late penalty call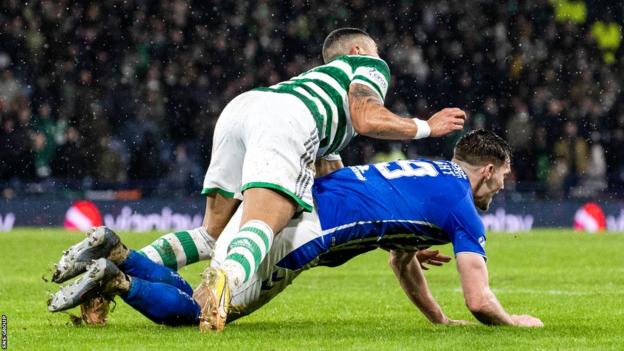 "I am a lucky man, so maybe it filters through to the players as well."
That was Celtic boss Ange Postecoglou's tongue-in-cheek response to a question about Daizen Maeda's fortunate opener for his side in their 2-0 League Cup semi-final win over Kilmarnock.
Tongue in cheek, because it was a subtle nod to Rangers boss Michael Beale's comments about Postecoglou being a "lucky man" to work with a bigger transfer budget.
Celtic scored twice and had two more ruled out at Hampden, but were pushed all the way by Kilmarnock, whose manager Derek McInnes said it was "the wrong decision" not to award his team a stoppage-time penalty when 1-0 down.
"Credit to Derek and his boys, they gave everything," Celtic boss Postecoglou told BBC Scotland.
"It's a semi-final of a cup and that's what you expect. It was a battle today. Conditions made it tough, the pitch made it tough.
"Credit to my boys again, they always find a way irrespective of what the challenge is. They found a way again today.
"Battling is performance. Performance is giving the best you can under the conditions that are presented to you."
'It is a penalty – it's a clumsy challenge'
While Celtic move on to next month's final with a chance to win their sixth Viaplay Cup in seven seasons, Kilmarnock were left to rue missed opportunities.
That, and the officials' decision not to award them a penalty for Giorgos Giakoumakis' tussle with defender Joe Wright in the box, minutes before the Greek striker went on to score Celtic's second.
"It's not the right decision," manager Derek McInnes told BBC Scotland. "It's a penalty kick at the death.
"The ball is quite flat, Giakoumakis can't get to the ball and he's put his arms round Joe Wright. I thought it was a penalty at the time and even more so having seen it back.
"I don't understand. We were told VAR would help the situation. I think VAR can at least ask the referee to have another look. Having seen it again, it is a penalty. It's a clumsy challenge.
"There's no point me speaking to the referee now. It's there for these big games. I feel that was a penalty kick and I'm so disappointed for the players because I thought we deserved to take it to extra time."
No distractions for Giakoumakis
Giakoumakis ended up being a key figure in a dramatic finish to what could turn out to be his last game for Celtic.
Reports have linked the 28-year-old with a move to Japan, after talks about an improved contract at Celtic broke down.
Josip Juranovic is another who could be on his way this month, though no formal offers have been received for the players.
Asked if there was any clarity about Giakoumakis' future, Postecoglou said: "You saw the clarity today.
"If people think he or Josip are distracted, their performance says it all. They were focused on what's before them today and they will be tomorrow.
"What is important is what I see every day and I see guys that are committed to this football club, training hard."