Premature Gaza babies evacuated to Egypt as Israeli tanks encircle second hospital
Twenty-eight prematurely born babies evacuated from Gaza's biggest hospital were taken into Egypt for urgent treatment on Monday, while Palestinian authorities and the WHO said 12 people were killed at another Gaza hospital encircled by Israeli tanks.
The newborns had been in north Gaza's Al Shifa hospital, where several others died after their incubators were knocked out amid a collapse of medical services during Israel's military assault on Gaza City.
Israeli forces seized Shifa last week to search for what they said was a tunnel network belonging to Hamas Islamists built underneath.
Hundreds of patients, medical staff and displaced people left Shifa at the weekend, with doctors saying they were ejected by troops and Israel saying the departures were voluntary.
Live footage aired by Egypt's Al Qahera TV showed medical staff carefully lifting infants from inside an ambulance and placing them in mobile incubators, which were then wheeled across a car park towards other ambulances.
The babies were transported on Sunday to a hospital in Rafah, on the southern border of Hamas-ruled Gaza, so their condition could be stabilised ahead of transfer to Egypt. The head of the World Health Organization (WHO), Tedros Adhanom Ghebreyesus, said 12 had been flown on to Cairo.
All of the evacuated babies were "fighting serious infections", a WHO spokesperson said.
Eight infants have died since doctors at Shifa originally raised an international alarm this month about 39 premature babies at risk from a lack of infection control, clean water and medicines in the neo-natal ward.
12 dead in hospital ringed by Israeli tanks
At the Indonesian Hospital, funded by Jakarta, Gaza's health ministry said at least 12 Palestinians were killed and dozens wounded by firing into the complex encircled by Israeli tanks.
Health officials said 700 patients along with staff were under Israeli fire.
The Palestinian news agency WAFA said the facility in the northeast Gaza town of Beit Lahia had been hit by artillery rounds. Hospital staff denied there were any armed militants on the premises.
WHO chief Tedros said he was "appalled" by the attack that he too said had killed 12 people, including patients, citing unspecified reports.
The Israeli Defence Forces (IDF) said troops had fired back at fighters in the hospital while taking "numerous measures to minimise harm" to non-combatants.
"Overnight, terrorists opened fire from within the Indonesian Hospital in Gaza toward IDF troops operating outside the hospital," the IDF told Reuters. "In response, IDF troops directly targeted the specific source of enemy fire. No shells were fired toward the hospital."
US defence Secretary Lloyd Austin, speaking to reporters during a trip to Ukraine, reaffirmed the position of the United States, Israel's strongest ally, on the need to get humanitarian aid to Gaza civilians.
"We have said every step of the way that our expectation is Israelis conduct their operations in accordance with the law of armed conflict," Mr Austin said. "…they must do everything, or should do everything, that they can to get humanitarian assistance in to the people in Gaza."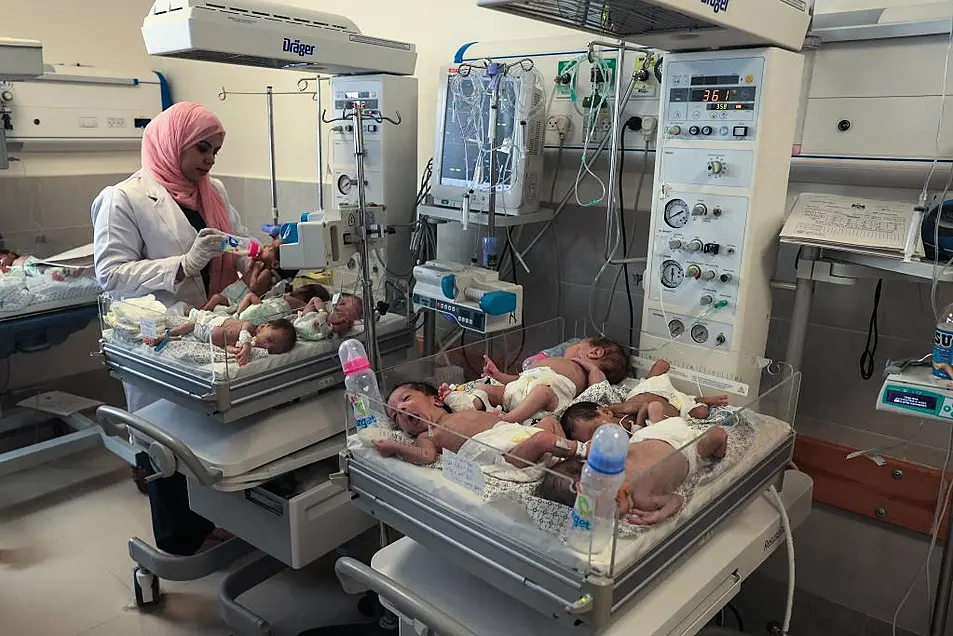 A Palestinian medic cares for premature babies, evacuated from Gaza City's Al Shifa hospital, ahead of their transfer from a hospital in Rafah in the southern Gaza Strip to Egypt, on November 20th, 2023. Photo: AFP via Getty Images 
The UN said that 69,000 litres of fuel entered Gaza from Egypt on Sunday after Israel confirmed it would start allowing the daily delivery of about 70,000 litres, "which is well below the minimum requirements for essential humanitarian operations".
Like all other health facilities in the northern half of Gaza, the Indonesian Hospital has largely ceased operations but is still sheltering patients, staff and displaced residents.
Israel has ordered the evacuation of the north, but thousands of civilians remain. Food, fuel, medicines and water have been running out across the enclave under Israel's six-week-old siege.
Medical charity Medecins Sans Frontieres said its clinic in Gaza City also came under fire on Monday.
In the south, where hundreds of thousands of Gazans who fled the north of the enclave are sheltering, at least 14 Palestinians were killed in two Israeli strikes on houses in Rafah, according to Gaza health authorities.
At least five people were killed and 10 wounded when an Israeli air strike hit an apartment unit in Khan Younis, at the southern end of the strip, according to medical sources at Gaza's Nasser Hospital. There was no immediate Israeli comment.
Heavy fighting around major refugee camp
Witnesses also reported bouts of heavy fighting between Hamas gunmen and Israeli forces trying to advance into north Gaza's Jabalia refugee camp, home to 100,000 people and, according to Israel, a significant militant stronghold.
Repeated Israeli bombardment of Jabalia, an urban extension of Gaza City that grew out of a camp for Palestinian refugees from the 1948 Israeli-Arab war, has killed scores of civilians, Palestinian medics say.
The Israeli military issued a statement with video of air strikes and troops going house-to-house in Gaza, saying they killed three Hamas company commanders and a squad of Palestinian fighters, without giving specific locations.
Hamas meanwhile said on its Telegram account that it had launched a barrage of missiles towards Tel Aviv. Witnesses also reported rockets being fired at central Israel.
Despite continued fighting, US and Israeli officials said a Qatari-mediated deal was edging closer to free some hostages.
US president Joe Biden said they believed a deal was near.
"We're closer now than we've been before," White House spokesman John Kirby said of a hostage agreement.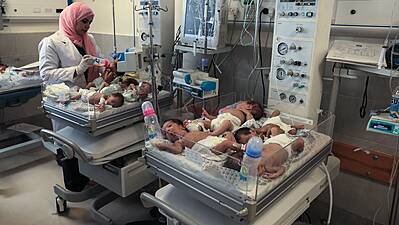 Israel-Hamas War
Biden says he believes Gaza hostage release deal n…
About 240 hostages were taken during a deadly cross-border rampage into Israel by Hamas militants on October 7th, which prompted Israel to invade the Palestinian territory to target Hamas. About 1,200 people, mostly civilians, were killed in the Hamas assault, according to Israeli tallies, the deadliest day in Israel's 75-year-old history.
Since then, Gaza's Hamas-run government said at least 13,300 Palestinians have been killed, including at least 5,600 children and 3,550 women, by unrelenting Israeli bombardment.
The United Nations says two thirds of Gaza's 2.3 million people have been made homeless.
"We are witnessing a killing of civilians that is unparalleled and unprecedented in any conflict since I am Secretary-General," UN chief Antonio Guterres, who took office on January 1st, 2017, told reporters.