New Argentinian president Javier Milei promises to 'take a chainsaw' to country's crippled economy
When Javier Milei's opponent in the 2023 Argentinian elections conceded victory on Sunday night it was obvious that the maverick libertarian economist was going to win big. And he did: once counting finished on Monday, Milei had taken 56% compared to 44% for his opponent, former finance minister Sergio Massa – in doing so he won the most votes in any election in Argentine history.
In the middle of a savage economic crisis in Argentina, with inflation running at 143% (with forecasts it will rise above 200% by the end of the year) Latin America's third-largest economy is in "intensive care".
To many of his supporters, Milei represents "cambio" – change. But how much he can present a clear alternative rather than an angry backlash to the status-quo remains to be seen.
Milei the maverick
Milei gained attention as a media commentator, becoming ubiquitous in Argentinian television and soon became known for his aggressive and foul-mouthed rhetoric. His public profile grew as he neither held back from insulting his opponents nor shied away from controversy, always with an eccentric edge. During his campaign he gained the nickname the "chainsaw president" for his habit of appearing at rallies wielding the power tool while pledging to slash public spending.
He is also known for apparently consulting his dead dog Conan, a 200-pound English mastiff who he had cloned in 2018, yielding five new versions of Conan, one of whom he named after the hero of neoliberal economics, Milton Freedman.
His positions have not always proved popular. In the final presidential debate he was forced to distance himself from his attacks on Pope Francis (an Argentinian) who he called "evil" and a "filthy leftist". Interestingly, while he insisted that Argentina should have "non-negotiable" sovereignty over Las Malvinas (Falkland Islands), he did so with the caveat that the final decision about the islands' future should lie with the people living there. He has also described Margaret Thatcher as "one of the greatest leaders in the history of humanity".
An outspoken fan of former US president Donald Trump (he has adopted the slogan "make Argentina great again", Maga) he mimic's Trump's attacks on the "elites", or what Milei calls "the caste".
Why did it take so long?
Public anger at economic mismanagement is key to understanding his success. With inflation consistently at well over 100%, rapid devaluation of the peso and growing poverty Milei exploited a deep rage within Argentina society.
The past two decades have seen 16 years of a centre-left alliance, associated with the populist figure Cristina Fernandez de Kirchner and her late husband, Néstor. Despite widespread social redistribution, the reduction of debt and poverty, the "Kirchnerist" alliance became tarred with allegations of corruption and economic mismanagement.
Kirchnerists represented the inefficiency of a big state development model to which Milei proposes to take his chainsaw.
The Argentinian people's decision to opt for Milei's brand of "anarcho-capitalism" is not surprising, given it represents radical change from decades of big and highly centralised government. Peronist parties, first coming to power under Juan Domingo Perón (1945-1954), have dominated Argentine politics ever since, including from the shadows during military rule. It has done this through an alliance of both left and right: trade unions and big business and an effective party machine with tentacles across the country and networks of party bosses who ran a plethora of welfare programmes.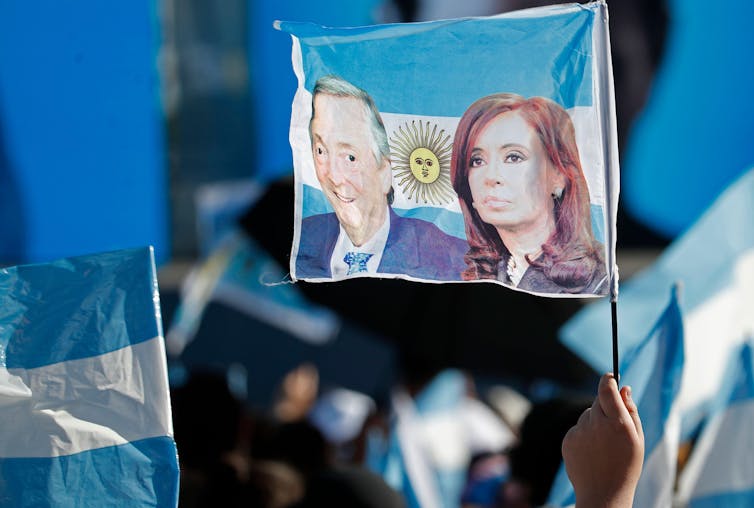 A system that promoted political clientelism (handouts for votes) meant that Peronism was able to dominate the political landscape. But inevitably a system that promotes populist politics has led to a deep polarisation of Argentine society, which has pitted elites (the "caste") against ordinary people struggling in desperate economic circumstances and angry at what they see as corruption at the top.
Radical project
With the economy in tatters (a recent drought has devastated Argentina's hugely important agricultural export sector) the country remains shackled to a massive IMF debt that never seems to get any smaller.
Milei's campaign was based around his pledge to achieve the "end of Argentina's decay". His programme will be based on three foundations: dramatically reducing the size of government, a respect for private property and the promotion of free trade. Milei has trumpeted plans to dismantle many government ministries, alongside getting rid of the Central Bank and adopting the US dollar.
It's hard to overestimate the magnitude of Milei's project. Effectively he is promising to tear apart the existing fabric of Argentine society and replace it with a free-market based on liberal values. It's a long-term vision. He says: "Give me 20 years and we'll be Italy – with 35, the USA."
His activist base, many of them young, educated men who felt robbed of a prosperous future, celebrated their triumph chanting "they all must go" to the soundtrack of 1990s rock-band Bersuit Vergarabat. The chant was last used to get rid of politicians following the crisis provoked by Milei's neoliberal idol Carlos Menem whose 1990s dollarisation helped crash the economy. The choice of music is also interesting, given the band's lead singer's misogynist comment: "There are women who need to be raped to have sex", which led to them being cancelled in 2016.
Warning signs
This leaves Argentine society in a dark moment. Milei's forces want to build a society that celebrates masculinity. The hard-won feminist victory for access to safe and free abortion could fall apart before it has been consolidated.
Most alarmingly, as Argentina celebrates 40 years of uninterrupted democratic rule, the incoming vice-president Victoria Villarruel has led a revisionist movement that downplays the crimes of the military junta and opposes gay marriage and abortion.
What comes next is hard to predict. Milei's party, Freedom Advances, has only seven seats out of 72 in the Senate and 37 out of 257 in the lower Chamber of Deputies. Much will depend on how Milei can leverage his obvious personal popularity.