More than 280 killed and 900 hurt after two trains derail in India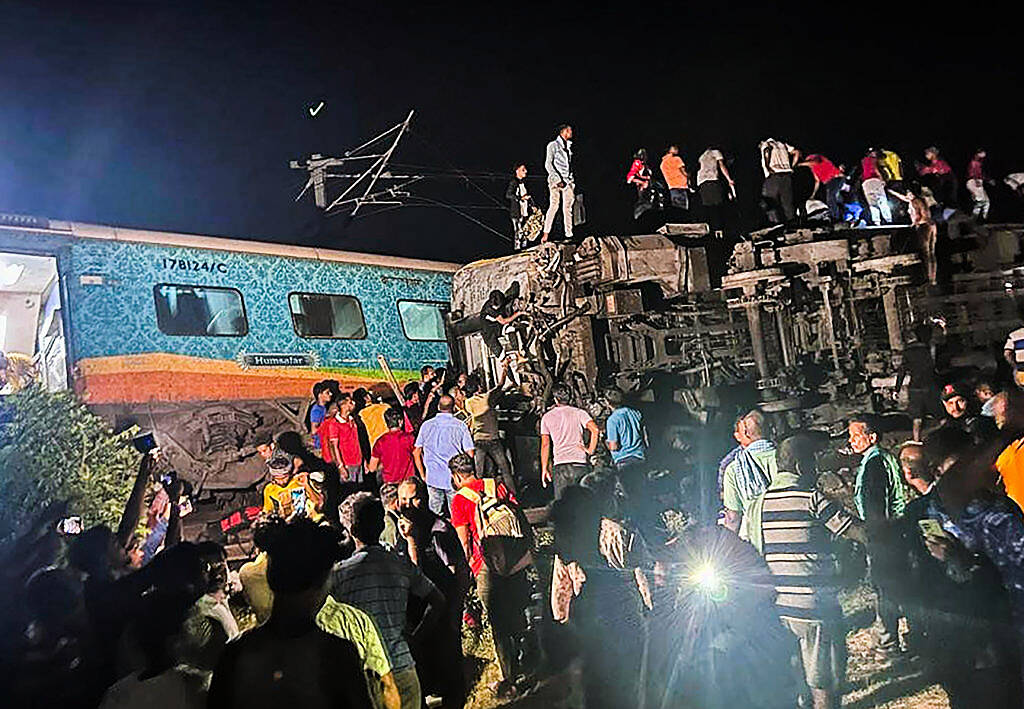 Two passenger trains derailed on Friday in India, killing more than 280 people and trapping hundreds of others inside more than a dozen damaged rail cars, officials said.
The accident that happened about 137 miles south-west of Kolkata created a chaotic scene of twisted wreckage and desperate rescuers as teams tried to free passengers and recover bodies. The cause was under investigation.
About 900 people were injured in the accident, Odisha state's top bureaucrat, PK Jena, said in a tweet.
Ten to 12 coaches of one train derailed, and debris from some of the mangled coaches fell onto a nearby track, said Amitabh Sharma, a railroad ministry spokesperson.
The debris was hit by another passenger train coming from the opposite direction, and up to three coaches of the second train also derailed, Mr Sharma said.
The Press Trust reported that a third train carrying freight was also involved, but there was no immediate confirmation from railroad authorities. The Press Trust report said some of the derailed passenger coaches hit cars from the freight train.
The death toll rose steadily throughout the night. Scores of dead bodies, covered by white sheets, lay on the ground near the train tracks as locals and rescuers raced to help survivors.
Teams of rescuers and police continued sifting through the ruins on Saturday morning as the search operation carried on, amid fears that the death toll is likely to rise further. Scores of people also showed up at a local hospital to donate blood.
Officials said 1,200 rescuers worked with 115 ambulances, 50 buses and 45 mobile health units through the night at the accident site.
Villagers said they rushed to the site to evacuate people after hearing a loud sound created by the train coaches going off the tracks.
"The local people really went out on a limb to help us. They not only helped in pulling out people, but retrieved our luggage and got us water," PTI cited Rupam Banerjee, a survivor, as saying.
Passenger Vandana Kaleda told the New Delhi Television news channel that she "found people falling on each other" as her coach shook violently and veered off the tracks. She said she was lucky to survive.
Another survivor who did not give his name said he was sleeping when the impact woke him up. He said he saw other passengers with broken limbs and disfigured faces.
The Press Trust said the derailed Coromandel Express was traveling from Howrah in West Bengal state to Chennai, the capital of southern Tamil Nadu state.
Indian Prime Minister Narendra Modi said his thoughts were with the bereaved families.
"May the injured recover soon," tweeted Mr Modi, who said he had spoken to the railway minister and that "all possible assistance" was being offered.
Despite government efforts to improve rail safety, several hundred accidents occur every year on India's railways, the largest train network under one management in the world.
In August 1995, two trains collided near New Delhi, killing 358 people in the worst train accident in India's history.
In 2016, a passenger train slid off the tracks between the cities of Indore and Patna, killing 146 people.
Most train accidents are blamed on human error or outdated signalling equipment.
More than 12 million people ride 14,000 trains across India every day, travelling on 40,000 miles of track.