Man who gagged and bound woman in Dublin alleyway jailed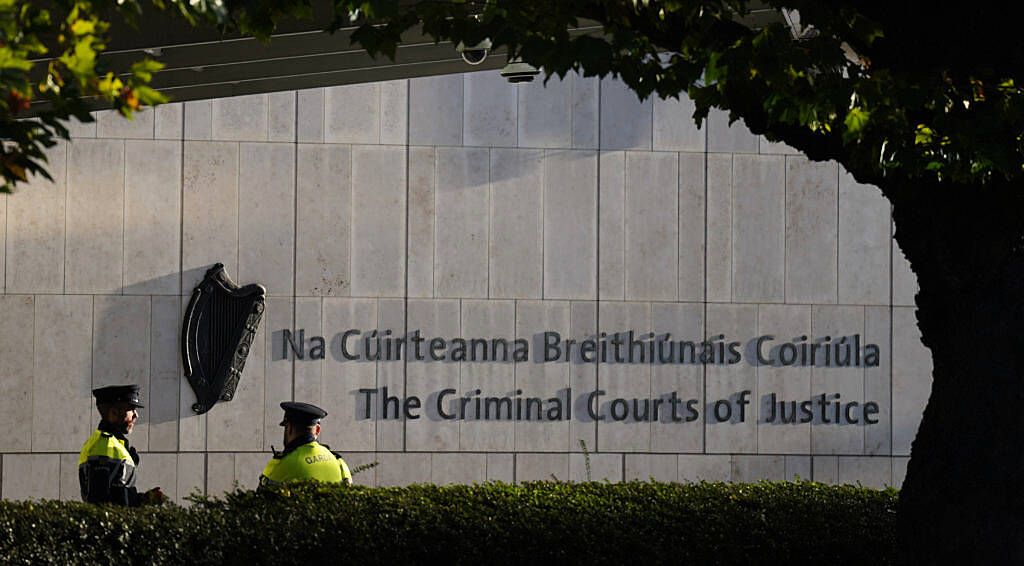 A Cork man who bound a young woman, gagged her with duct tape and assaulted her in an alleyway in Dublin city centre has been sentenced to 10 years in prison, with the final 18 months suspended.
Maurice Fitzgerald (29), of Abbeyview in Buttevant, Co Cork, pleaded guilty to falsely imprisoning and assaulting the woman, causing harm last August 27th, at Meeting House Lane, off Mary's Abbey.
Passing sentence at Dublin Circuit Criminal Court on Thursday, Judge Martin Nolan set a headline sentence of 12 to 14 years for what he said was a "particularly insidious and very serious crime".
The judge said Fitzgerald "had a plan" and had bought duct tape and a claw hammer on the day in question.
"He was prepared to use force to apprehend and take a woman," said Judge Nolan.
The court heard that gardaí were called after residents of a nearby apartment heard the woman screaming and the sound of tape being wrapped through their open window. Judge Nolan said if gardaí had not arrived when they did, "something very serious would have occurred."
The court heard that the victim, now aged 26, suffers from chronic schizophrenia and has been under psychiatric care since the incident. She has not been in a position to make a statement to gardaí.
The woman's father submitted a victim impact statement on her behalf, which was not read aloud in court.
Ankles tied together
Detective Garda Patrick Hynes told Fionnuala O'Sullivan BL, prosecuting, that a couple living in a nearby apartment block had their window open as it was a very hot night.
One of these witnesses heard the wrapping of tape, and when he looked out the window, he saw a girl lying on the ground with her ankles tied together. The court heard that the girl was trying to stand up and that she looked dizzy and fell over, hitting her head.
Witnesses said the woman was screaming, "Get it off me, leave me alone, get away from me," and that man laughed at her and shouted, "shut up," before dragging her out of sight.
Gda Hynes and another garda who were on mobile patrol arrived shortly afterwards and saw Fitzgerald dragging the woman with her feet tied and her hands bound behind her back.
Gardaí said there were two rolls of duct tape on a top of a car and some empty Corona bottles in the middle of the laneway. Fitzmaurice dropped the girl and ran, the court heard, physically resisting gardaí before he was eventually restrained and cuffed.
Gardaí said the woman was highly distressed and trying to scream and that they had to use a knife to free the tape from her mouth.
She was brought to the Mater Hospital, and the following morning she confirmed her identity to gardaí but was still in a very distressed state with bruising all over her body.
The court heard the woman had severe underlying mental health difficulties and had been detained after the attack under the Mental Health Act to a hospital in the Midlands, where she remains.
The court heard Fitzgerald had travelled by train from Cork and arrived in Dublin at 1pm.
He went into a number of pubs and shops in the city centre, and bought two rolls of silver duct tape and a claw hammer in Dealz on Liffey Street and another roll of duct tape in EuroGiant.
He later met the female cashier from one of these shops in a pub and bought three rounds of drinks with her, the court heard.
CCTV footage from the Norseman pub shows Fitzgerald chatting, messing and giving a piggyback to the injured party on Essex Street less than an hour before the attack.
Photos on phone
Footage was played to the court, where the accused can be heard unrolling duct tape and tying up and gagging the woman on the ground. Fitzgerald's phone was found to contain a number of stock internet photos of women bound and gagged, along with similar screenshots from websites.
Fitzgerald was deemed intoxicated and unfit for interview until the following morning. In his fourth interview with gardaí he admitted he was guilty but said he couldn't remember what had happened.
He has six previous convictions, including two for sexual assault and others for false imprisonment, assault causing harm and possession of weapons.
He was sentenced to four years in prison in July 2016 for an incident in Kerry where he befriended a woman and used duct tape to incapacitate her.
Garda Hynes agreed with Michael Bowman SC, defending, that Fitzgerald accepted that he had punched the woman and had expressed a degree of apology.
"I'm guilty out. I did whatever. I'm guilty of dragging her across the floor. I obviously hit her," he told gardaí. When asked if he had any message for the victim, Fitzgerald replied, "Sorry for everything."
Mr Bowman said the images on his client's phone were professional photos voluntarily put on the internet by models describing themselves as "sock and bondage lovers" with no suggestion of males being present.
The court heard that Fitzgerald was working in the construction industry at the time of the offence. Mr Bowman said the single biggest mitigating factor was Fitzgerald's guilty plea.
The court heard Fitzgerald is on the Sex Offenders' register.
Ireland
Michael Scott: The full story of the farmer's tria…
Judge Nolan said Fitzgerald had "certain interests and obsessions, to put it at their mildest, which are very unhealthy and very criminal". The judge said Fitzgerald had very relevant previous convictions and that the court could not come to the conclusion that he would not re-offend in the future.
However Judge Nolan added that the court was not "in the business of preventative detention" and could not detain someone because it had the apprehension that he would not change his habits.
Fitzgerald was ordered to be of good behaviour while in custody and for five years post-release. He was further told to abide by the supervision of the Probation Service for five years.
The sentence was backdated to August 27 when he went into custody.