Lawyers for Gerry Adams ask High Court judge to throw out damages claims
Lawyers representing former Sinn Féin president Gerry Adams have asked a High Court judge in England to throw out damages claims brought against the Provisional IRA by victims of bombings in London and Manchester.
John Clark, a victim of the March 1973 Old Bailey bombing in London, Jonathan Ganesh, a victim of the February 1996 London Docklands bombing, and Barry Laycock, a victim of the June 1996 Arndale shopping centre bombing in Manchester, have sued Mr Adams and the Provisional IRA and want "nominal" – £1 – damages.
Mr Adams says claims against the Provisional IRA should be struck out – the three claimants disagree.
Lawyers representing Mr Adams and the three claimants are outlining legal arguments at a High Court hearing at the Royal Courts of Justice complex in London.
The hearing is due to end on Wednesday.
Barrister Richard Hermer KC, who is leading Mr Adams's legal team, described the case as "unusual".
He said the Provisional IRA was an "unincorporated association" which was "incapable in law of being sued".
Mr Hermer said the conduct of the claim had been "characterised by a significant number of procedural breaches and irregularities".
Barrister Anne Studd KC, who is leading the claimants' legal team, said each man alleged that Mr Adams was "liable to them" both as an "individual given the part he played in the preparation and planning of the attacks" and as a "representative" of the Provisional IRA.
"It is anticipated that (Mr Adams) will deny that he was ever a member of the (Provisional IRA), although currently the court should note that it has no evidence upon which to base that conclusion there being no defence entered and no statement from (Mr Adams) setting out his account," she told the judge in a written case outline.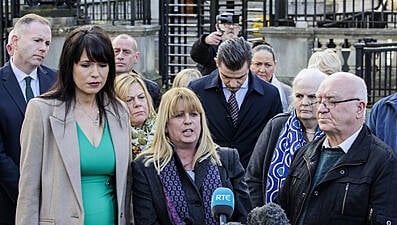 Ireland
Legacy Act has retraumatised Troubles victims, leg…
"This case raises important issues on access to justice in cases where a group of claimants alleged the most heinous wrongdoing by an individual who they allege was a member of an organisation responsible for significant injury through terrorist means.
"If (Mr Adams's) application succeeds, then its effect would be to give a claimant no cause of action against an individual as a representative of an unincorporated association where the defendant seeks to deny such an association without submitting any evidence as is the case here."
She said a "fundamental issue" at a trial would relate to whether the claimants established that Mr Adams was a "Commanding Officer of the Belfast Brigade of the IRA".