Argentina's Milei must learn political game to make the changes he seeks
Argentina's Javier Milei promised in his first speech as president-elect that there would be "no room for half measures" to revive the country from its worst economic crisis in two decades. But unless he can capitalise on political alliances, half measures may be all he can achieve.
The radical libertarian outsider heads a coalition with only limited representation in Congress. As such, he will be forced to negotiate with his new conservative allies and a sceptical Peronist opposition to push forward his agenda.
The economist and relative political novice scored a historic win in the South American country's presidential runoff on Sunday, breaking for the first time in decades the hegemony of the main two political coalitions amid inflation soaring towards 150 per cent and rising poverty.
He has pledged a "chainsaw" plan for the economy, including eventually shutting the central bank, ditching the local peso currency in favour of the dollar, cutting back the size of government and privatising state firms like energy giant YPF.
Those plans, however, will face pushback and Mr Milei will have a weak position in Congress. His Liberty Advances bloc will only have seven seats in the Senate out of 72, and just 38 out of 257 in the lower Chamber of Deputies.
"Milei will need a realignment of alliances to push through laws in Congress. If not, he will not be able to govern through the legislature," said local political analyst Raul Timerman.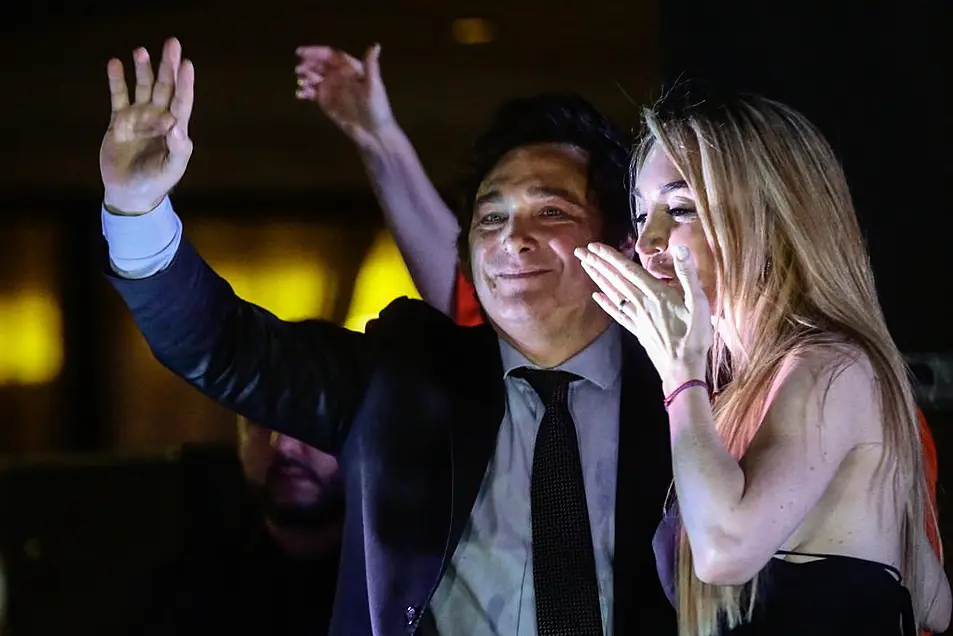 Javier Milei celebrates with his girlfriend Fatima Florez after winning the presidential election runoff outside his party headquarters in Buenos Aires on November 19th, 2023. Photo: AFP via Getty Images 
Although Mr Milei may be able to use emergency executive orders in some cases, for most law changes he will need to secure at least 50 per cent majority support in Congress.
His coalition also does not have regional governors or mayors, important in a strongly federal system where the provinces hold a lot of power. Senators work closely with the governors of their regions and sectors like education and health are largely ran on a provincial rather than federal basis.
"The Milei government will surely have to rely on its political allies to start with," said Federico Aurelio, who heads consulting firm Aresco. "And then it will need to engage in dialogue with the entire political spectrum."
Mr Milei said on Sunday night that he welcomed "all good Argentines" to his project, but his campaign has not commented on how it will work across the political aisle and was often critical of other parties ahead of the vote.
'They are negotiating'
Mr Milei will likely face strong pushback from the defeated Peronist coalition that will retain the largest minority in both chambers of Congress.
The Peronists are unlikely to support changes that Mr Milei has proposed – including overhauling the health, education and pension systems.
However, Mr Milei has formed an uneasy alliance with key members of the Together for Change (Juntos por el Cambio) conservative bloc, including former conservative president Mauricio Macri and former candidate Patricia Bullrich. That will be key to unlocking anything. Horse-trading is already underway, which could impact the make-up of his final Cabinet.
"They are negotiating," a source from the Together for Change bloc told Reuters about the chances of its officials joining the Cabinet that will take office on December 10th. Together for Change – itself divided about support for Mr Milei – will have 94 lower house deputies and 21 in the upper house.
"To usher in his government he has a huge challenge," said analyst Mariel Fornoni from consultancy Management & Fit, who added it would be tricky logistically to negotiate with grassroots opposition mayors and governors.
"The first thing I think is that he'll need to understand the rules of the political game. And that is something to which he is not accustomed."